News from Groups
Publié par :

Corey Robichaud

Affichages : 3648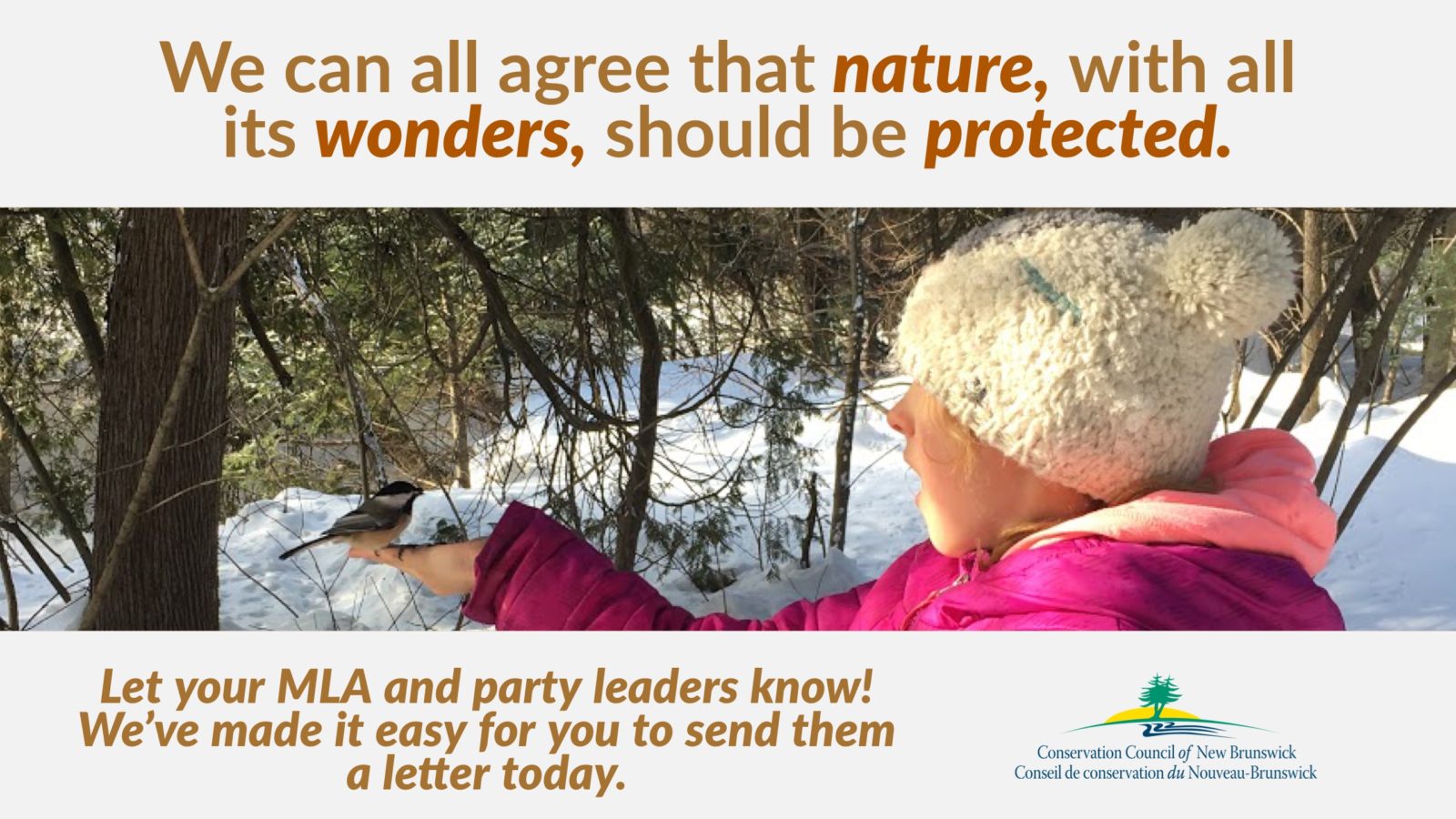 New Brunswick may be facing an uncertain political future, but there is one topic that all New Brunswick MLAs, new and old, can agree on: the need to protect nature and the natural beauty of our province.
Right now, 95 per cent of New Brunswick's land and water is unprotected, leaving vital ecosystems vulnerable to development, climate change and pollution.
We can change this, and right now is the time to do it.
Canada has made an international commitment to protect 17 per cent of its landscape by 2020. New Brunswick needs to do its fair share to help the country hit this target. That's why we need you — or, rather, why your MLA needs to hear from you.

The Conservation Council is joining forces with Nature Canada, the Nature Trust of New Brunswick, Nature NB, and the Canadian Parks and Wilderness Society NB Chapter in calling on our members to write their MLA and provincial political party leaders to speak up for nature protection in N.B.
We've made it easy for you to do your part.
Simply fill out the form below to send our pre-written letter (which you can edit freely) to your MLA and each of the party leaders. Not sure who your MLA is? No problem — just fill in the postal code field below, we'll take care of the rest.
Regardless of which party forms the government, let's make sure every Member of the Legislative Assembly knows that protecting nature in New Brunswick is something we can all agree on. Send your letter today!

Click here to send your letter today!
Publié par :

Jean Louis Deveau

Affichages : 3747
Speakers include:
Margaret Stewart, Director of Center for Earth Jurisprudence
Grant Wilson, Directing Attorney at Earth Law Center
Cormac Cullinan, Directing Attorney with Cullinan & Associates in South Africa, CEO of EnAct International
Shannon Biggs, Co-Founder of Movement Rights
Catherine Iorns Magallanes, Professor University of Wellington, National Board Member of Amnesty International Aotearoa New Zealand
Deon Ben, Grand Canyon Trust and Navajo Nation
Kirsten Anker, Faculty of Law at McGill University
Hugo Echeverria, Environmental Attorney in Ecuador
Craig Kauffman, University of Oregon, Associate Professor of Political Science
Rachelle Adam, Animal Rights and Environmental Attorney and Activist in Israel, Lecturer and Faculty of Law at Hebrew University
Linda Sheehan, Senior Counsel Leonardo DiCaprio Foundation Reed Loder, Professor at Vermont Law School
Kevin Schneider, Executive Director of the Nonhuman Rights Project
Thomas Linzey, Executive Director of Community Environmental Legal Defense Fund (CELDF)
For the full agenda, click here.
Publié par :

Anita Cannon

Affichages : 3642
Join us for our annual local food celebration at the Conservation Council Southeast Chapter's 100-Mile Dinner Fundraiser.
This popular event takes place on Sunday, Oct. 14 from 5-8 p.m. at Dolma Food, 251 St. George St. (second floor) in Moncton.
Tickets are $25 in advance or $30 at the door. You can buy tickets online here, at the Dolma Food stores in Moncton and Dieppe, or by contacting Anita at
ccnbsoutheast@gmail.com
or 506-859-8104.
The 100-Mile Dinner gathers friends, neighbours and community members to celebrate with a locally-sourced tapas buffet (including vegetarian options), guest speakers, a live auction, draw prizes, and presentation of the third annual Beth McLaughlin Environmental Journalism Award.
If you have items you'd like to donate to the auction, please contact Anita at
ccnbsoutheast@gmail.com
or Dave at 506-859-8104.
Seating is limited so get your tickets today!
Publié par :

Jim Emberger

Affichages : 4122
Tories are incoherent on 'regional social licence'
Jim Emberger, Commentary, Telegraph Journal September 13, 2018


The freshly released Progressive Conservatives platform contains only a single sentence on shale gas, and leaves "regional social license" – mooted by leader Blaine Higgs in April – entirely unexplained.
Even without adequate detail in the platform, the very concept is a clear case of putting the cart before the horse.
The shale gas moratorium's first condition sensibly dictates that, before social license can be granted, citizens must receive "clear and credible information about the impacts of hydraulic fracturing on public health, the environment and water."
As I have documented in previous articles, the "clear and credible evidence" from science and public health studies, court cases, journalistic investigations and government regulatory actions reveal shale gas impacts including:
A host of serious diseases affecting those living near gas wells, and especially the unborn.
Water contamination from every aspect of industry activity.
Leaking methane from gas infrastructure, making it a leading contributor to climate change.
Toxic wastewater created by fracking, with no safe way of disposal.
Universally inadequate regulations and oversight, plus the precarious financial state of the industry, means that these threats continue unabated.
As the Progressive Conservatives haven't provided the public with any credible evidence that these risks have been addressed, how can they ask anyone for social license?
Meanwhile, extensive government reviews of shale gas elsewhere have almost unanimously led to bans or moratoriums. These include Quebec, Canada's Maritime Provinces, 19 of the 25 countries of the European Union, Scotland, Ireland, Wales, and several U.S. and Australian states. Mexico, a major fossil fuel producer, is banning fracking.
In many U.S. states that launched the shale industry before conducting public reviews, hundreds of cities and counties have passed resolutions restricting fracking.
Before New Brunswick's last election, over 70 municipalities and dozens of medical, public health, religious, community, environmental and indigenous groups called for a moratorium – including Mr. Higgs' community of Quispamsis.
The PCs apparently are aware of this widespread public opposition, and attempt to sidestep it by claiming that fracking will be limited to Sussex and Albert County, because those localities want it.
Yet the municipality of Sussex Corner supported the moratorium, as did citizen groups in the nearby agricultural area of Cornhill, and in Penobsquis, where existing gas wells are located.
In Albert County, the municipalities of Hillsborough and Alma supported the moratorium, as did the neighboring city of Moncton. Citizen groups – e.g. the Petitcodiac Watershed Alliance, Water and Environmental Protection for Albert County, and the Chepoudy Communities Revitalization Committee – have reaffirmed their support for the moratorium.
So who will grant "social license," and how is "regional" defined? The PC platform contains nary a clue.
Do businessmen reaping financial benefits, but living away from the wells, get the same vote as pregnant mothers living next to gas wells, who – willingly or not – will assume greater health risks?
Airborne chemical pollution affects those with asthma and respiratory problems up to hundreds of kilometres away. Likewise, waterborne contaminants can travel the length of whatever waterways they enter. How far downstream and downwind is the regional line drawn for health and environmental risks?
Increased health care and road repair costs have been documented everywhere a shale gas industry exists, as have the costs of dealing with abandoned wells. These financial risks and costs will be borne by all the taxpayers of New Brunswick.
Leaking methane gas damages the climate for everyone.
These widespread risks to health and environment from fracking have been proven. Living on one side of some arbitrary regional line doesn't grant the right to accept those risks for everyone.
The ethics of medical research require that every individual give their informed consent to be a 'guinea pig' before being exposed to toxic, carcinogenic or untested chemicals. Fracking, which uses hundreds of such chemicals, is a massive uncontrolled experiment and should require no less a standard.
And yet, the PCs are running with the slogan that they will restore trust.
Mr. Higgs recently wrote a commentary in this newspaper on his plans to fight climate change ("A carbon plan, not a carbon tax," Aug. 18, A11). It did not once mention his policy on shale gas. Does he know the gas industry is a major contributor to climate change?
Also unaddressed is the 800-pound gorilla in the room. The rapid depletion of shale gas wells means the industry must continually drill new wells. Thus, a "regional" industry won't stay regional for long.
The PCs have not discussed these concerns, or any of the risks catalogued above. Their platform does not even contain the words "shale," "fracking," or "moratorium." Doesn't the path to trust demand a demonstration that one understands and can discuss the concerns now, before the election?
If facts don't support a policy, the policy must change. Not discussing the facts won't build trust.
Canada's Dr. John Cherry, one of the world's foremost experts on groundwater contamination, testified before our Commission on Hydrofracturing, noting, "It is hard to make the case for social license if you have no scientific proof of safety." These are words the PCs, and indeed all New Brunswickers, need to heed.
Jim Emberger
is spokesperson for the New Brunswick Anti-Shale Gas Alliance.
Publié par :

Annika Chiasson

Affichages : 3117
Les groupes environnementaux du Nouveau-Brunswick aimeraient améliorer la compréhension de la population des enjeux environnementaux et des positions des partis politiques concernant ces enjeux avant les prochaines élections. Nous avons recueilli
26 questions des groupes environnementaux
de la province et nous avons demandé ces questions aux partis politiques avec une date limite du 31 aout. Les réponses sont les suivantes :
Les Libéraux : N'ont pas répondu aux questions du sondage, mais ont plutôt envoyé une réponse écrite de deux pages qui répondait à certaines des questions du sondage.
Les Progressistes-conservateurs : N'ont pas répondu aux questions du sondage mais ont envoyé une courte lettre.
Les Verts : Ont répondu à toutes les questions du sondage.
Le NPD : N'ont pas encore répondu au sondage.
L'Alliance des gens : N'ont pas encore répondu au sondage.
Pour une compilation de toutes les réponses, cliquez ici.
Veuillez noter : Cette page sera mise-à-jour si nous recevons d'autres réponses.
Publié par :

Jim Emberger

Affichages : 4082
Jim Emberger - Commentary, Telegraph-Journal, Daily Gleaner August 24, 2018


At a recent oil and gas industry conference, Terry Spencer, head of natural gas infrastructure company, ONEOK, told the audience: "One of these days, one of these big ol' fracs will be operated with nobody there..... We are as an industry working towards where we can operate 24/7, unattended."
He wasn't forecasting the distant future.
In 2016, the Houston Chronicle was already reporting,"These new rigs, using sophisticated software and robotics, could reduce the number of people working in the oil patch by up to 40 per cent." The article continues: "The Holy Grail [is] to not have to touch the pipe and totally automate the process."
The 2014 fossil fuel crash forced companies to slash the number of drilling rigs and lay off 440,000 workers. Although the number of rigs is slowly growing back, analysts say that half the workers may never return.
That's because the fracking industry, despite its growth, has always been mired in debt – the Wall Street Journal calculates US$280 billion. To have any chance of reaching profitability, the industry must cut costs, meaning eliminating jobs and increasing automation.
For example, SWN, the American company once exploring in New Brunswick, has announced it will layoff 200 workers to save on annual personnel costs of $65 million.
Since the fracking industry has always sold itself as a source of high-paying, blue-collar jobs, it doesn't publicize that many of those jobs are now disappearing. Replacing workers with machines is masked as "efficiencies" and "cost-savings," and, with no apparent sense of shame, as "worker safety measures."
Industry debt also leads to numerous bankruptcies and company closures, posing financial threats to taxpayers and landowners in the form of thousands of abandoned, often leaking, gas and oil wells.
Governments should have demanded sufficient funds from the industry in advance to cover the costs of closing wells, but did not. Industry claimed it couldn't afford the upfront cost. Now, bankruptcy laws that give creditors first access to the assets of insolvent companies leave little money to remediate abandoned wells.
Saskatchewan's auditor general estimates the problem will cost the province $4 billion, while Alberta, with its hundreds-of-thousands of wells, faces a mind-numbing $47 billion in future costs. Saskatchewan has already asked Ottawa for a few hundred million until they can figure out a long-term plan, so we can surmise that federal and provincial taxpayers will be on the hook for bailout money.
Any taxpayer bailout will be a bitter pill, as the industry already receives billions from Canadian taxpayer subsidies, another fact not discussed. The International Monetary Fund estimates that Canada's subsidies to the natural gas industry are 44-per cent greater than its foreign aid payments.
The British Columbia government, for instance, offers exemptions from income, sales and climate taxes, provides lower electricity rates, and offers extremely generous "royalty credits for fracking operations." The Energy Ministry calculates that these "credits" equal nearly $5 billion in lost royalty revenue.
Despite generous subsidies, Alberta (our largest gas producer) has seen royalties plummet 90 per cent since 2008: from $5 billion down to $500 million.This explains why the Petroleum Services Association of Canada just announced a decrease in Canadian natural gas drilling this year, citing low natural gas prices and reduced demand.It noted: "Many companies are sitting at near break-even points or are still in negative territory.... This is not sustainable from a business continuity and competitiveness perspective," and explains the "lack of attractiveness for investment."
These subsidies, debts and job losses occur in tandem, with multiple economists warning that market forces may turn Canada's billions of dollars of fossil fuel infrastructure into worthless "stranded assets" by 2030.
All of this news comes from industry or government sources.
So why would conservatives, economists and various chambers of commerce members who write newspaper commentaries promoting shale gas not address any of these issues? One would expect that, as businesspeople, they would be aware of the industry's financial and trade news.
What are we to think when they endlessly repeat the meaningless phrase "responsible resource development" while displaying no more detailed knowledge about shale gas economics than they do about its health and environmental threats?
Should we pin our economic hopes on an industry built on subsidies, debt and potentially huge costs to taxpayers, one that provides fewer jobs with each passing year, while putting our health, environment and climate at risk?
Or, should we instead keep the moratorium on fracking, and choose a business sector with an economic case that is booming with jobs and prospects. Clean Energy Canada's recent study of a basic energy efficiency plan for New Brunswick shows that by 2030 we could increase GDP by $5 billion and create 25,879 jobs.
Going beyond the basic plan, and adding renewable energy, makes those numbers skyrocket. These aren't imaginary figures. Jobs in energy efficiency and renewable energy far outnumber those in the fossil fuel industries, while ensuring a healthier, more sustainable, future.
Jim Emberger is spokesperson for the New Brunswick Anti-Shale Gas Alliance (NoShaleGasNB. ca)