News from Groups
Publié par :

Corey Robichaud

Affichages : 2871
You may have noticed some curious posts about the federal carbon tax on the Government of New Brunswick's Facebook Page and website.
Premier Blaine Higgs' Progressive Conservative government's materials on the carbon tax and what it will mean for New Brunswick cherry-picks facts about the issue, misconstrues how we got here, and (until recently, after pushback from New Brunswickers and groups like your Conservation Council), didn't even tell us how to claim the federal Climate Action Incentive in our 2018 taxes (an incentive which, for the majority of New Brunswick households, analysis shows will more than cover the extra costs associated with a carbon tax).
Between the Higgs government's misleading information on the carbon tax, and Andrew Scheers robo-texting campaign, there is a lot of politics dominating what should be a serious 'all-hands-on-deck' conversation about tackling climate change — what Canada's leading health professionals call the 'greatest public health threat of the 21st century."
Climate change is already affecting New Brunswickers. An issue this serious and this urgent should go beyond politics. Protecting the places we love should be something we all get behind and give our best, honest effort.
But, slowing climate change is complicated business. And it's made all the more confusing by stubborn and disconnected leaders who would rather deny climate change and abandon their duty to slow it and protect us from its effects.
How did we get here? How does a carbon tax work? Why is it important? What more should we be doing to protect families from increasingly severe flooding, devastating ice storms, and flipped, unpredictable weather?
Our Dr. Louise Comeau has prepared science-based, non-partisan fact sheets to help answer these important questions. If you are worried about climate change, but not sure where to get a sincere explanation of what all this is about, these resources can help. Give them a read. Share them with friends and family. And please, reach out to us if you have any questions (506-458-8747; info@conservationcouncil.ca).
For the love of New Brunswick, we can — and must — prepare for a future with less pollution and safer communities.
Publié par :

Jim Emberger

Affichages : 3508
"Courts 'Recognizing the Obvious on Climate"
Telegraph Journal, Daily Gleaner, Times Transcript - March 11, 2019
The New Brunswick Anti-Shale Gas Alliance was an intervener in the recent Saskatchewan Court of Appeals reference case on the federal carbon pricing "backstop."
Those opposing carbon pricing portrayed the case as strictly a constitutional matter of jurisdiction, and chose not to discuss the issue of climate change. However, one of the first questions the Chief Justice asked Saskatchewan's lawyer was: "If (climate change) literally imperils the future of the planet, should it be taken into account?"
There was little doubt why the Justice asked this question. The Court had received overwhelming evidence about climate change and its calamitous effects.
Our group submitted judicial decisions from courts around the world, based on the principle that increased greenhouse gases emissions from anywhere, no matter how small the amount, add to the global totals that threaten everyone.
Clearly the courts are now recognizing the obvious about climate change and the elemental part fossil fuels play in it.
Saskatchewan and its co-plaintiffs, realizing that being "deniers" is no longer politically acceptable, proclaim concern about climate change. But their claims ring hollow, as all these provinces have recently elected Progressive Conservative governments whose climate policies belie their words.
Sadly, New Brunswick is a case in point. Its signature energy policies of a new shale gas industry and a resurrection of the Energy East bitumen pipeline contradict concern about climate change, despite official rhetoric to the contrary.
The first necessity to slow climate change is to stop creating additional greenhouse-gas emissions from new fossil fuel sources. This is the very thing that carbon pricing is designed to deter.
How could New Brunswick meet any greenhouse gas limits while starting a shale gas industry that would create huge volumes of emissions from leaking methane and from burning large quantities of diesel fuel and gasoline?
Reviving Energy East is a fantasy few experts consider viable, not least because its approval would have to consider the climate effects of its upstream and downstream emissions. It didn't face that requirement last time around, but would now.
By misreading climate change considerations, and fossil fuel market forces, our government's policies both suffered setbacks.
After promising that Corridor Inc. had millions of dollars to immediately invest in local shale gas, the premier appeared to be blindsided when Corridor said it wouldn't be drilling new wells until 2021, and only if it found a financial partner.
This should not have been a surprise. The gas market is flooded. Shale gas has never been profitable for lenders and investors, who are now demanding long-delayed paybacks. The easy money spigot is closing, making it tougher to get financial backing.
A recent Supreme Court decision, finding environmental clean-up obligations have precedence over repaying loans, has made banks warier about fossil fuel investments.
Mr. Higgs has countered with the position that local shale gas could replace gas from Nova Scotia's about-to-close Sable Island facility. However, gas suppliers, noting that a new local shale gas solution was years away, announced they would supply the Maritimes with western gas via the pipeline that was the centrepiece of Energy East.
With Energy East dead, and with no apparent market justification for local shale gas, Mr. Higgs now gives us a truly convoluted policy rationalization for both.
He would have us believe a local shale gas industry (years in the making) would convince gas pipeline companies and western producers to give up their Maritime business, and once again go through the near-impossible task of Energy East approval.
Besides needing dozens of things to go exactly right, the many years required would bring this plan to fruition at the very time when fossil fuels must be reduced by nearly half, and when carbon pricing would be at a maximum. It strains credulity.
Readers should note these setbacks to the premier's plans are not due to political opposition, or environmental activism, but rather to business decisions and market forces in the industry.
Climate change, by necessity, will be a major market force in reducing fossil fuels, while cheap renewable energy is another.
Energy planners and pundits should begin recognizing the obvious, as Alberta just did in contracting three new solar farms to provide 55 per cent of the government's electricity, at nearly half the cost of natural gas.
The U.S. Permian Basin, the heart of shale oil, produces so much accompanying gas they pay to get rid of it. Yet, plans for the industry's electricity needs include a solar farm and the world's largest battery.
Despite many similar examples, Mr. Higgs maintains renewable energy is still too expensive, and continues dealing in the false hopes of fossil fuel riches. Both ideas are from a bygone era.
The climate threat and market forces clearly indicate there is no future in a local shale gas industry. We, too, need to recognize the obvious.
Jim Emberger is spokesperson for the New Brunswick Anti-Shale Gas Alliance, an organization intervened in the recent court challenge over carbon pricing in Saskatchewan.
Publié par :

NB Community Harvest Gardens Inc.

Affichages : 3146
Our 18-week full time program begins April 29, 2019.
Visit
https://www.hayesfarm.ca/education
to read the full program description and
APPLY FOR OUR 2019 REGENERATIVE FARMING CERTIFICATE PROGRAM!


We've been working hard through the last few months to refocus our program and make improvements based on the 2018 pilot. We are feeling strong and excited and can't wait to meet a whole new group of learners and growers this year. Please help us spread the word by checking us out on Facebook:
https://www.facebook.com/HayesFarmFredericton/

Publié par :

Jim Emberger

Affichages : 3000
Pour diffusion immédiate : le 6 février 2019

FREDERICTON
— L'Alliance anti-gaz de schiste du Nouveau-Brunswick (AAGSNB) a annoncé aujourd'hui qu'elle avait obtenu le statut d'intervenant devant la Cour d'appel de la Saskatchewan dans le renvoi portant sur la contestation de la tarification du carbone imposée par le gouvernement fédéral. L'Alliance appuiera le gouvernement fédéral et s'opposera à la position du gouvernement du N.-B.
« Les changements climatiques sont d'ores et déjà manifestes et la risposte doit être immédiate, juste et efficace » déclare le représentant de l'Alliance, Jim Emberger. Les inondations en hiver et en été, les vagues de tempête causées par la montée du niveau de la mer et les tempêtes intenses, les sécheresses, les vagues de chaleur et autres changements climatiques perturbent déjà la vie, les moyens de subsistance et le bien-être des Néo-Brunswickois et ils vont s'aggraver.
Ces phénomènes météorologiques extrêmes mettent les populations à risque et font des changements climatiques une question de santé publique. C'est pourquoi en 2018 les médecins canadiens qui participaient à l'évaluation
Lancet
sur les changements climatiques et la santé ont incité les gouvernements à «utiliser les outils de tarification du carbone le plus rapidement et le plus largement possible, en augmentant progressivement les cibles de façon prévisible.» (1)
« Aucun gouvernement ne peut se soustraire à sa responsabilité de diminuer la pollution par le carbone et de protéger sa population contre les effets dévastateurs des changements climatiques » affirme Jim Emberger. L'intention du gouvernement du Nouveau-Brunswick de ressusciter l'exploitation du gaz de schiste et de soutenir la construction d'oléoducs démontre bien qu'il ne comprend pas l'urgence et les menaces majeures que les changements climatiques font peser sur nos communautés. Qui plus est, il n'a pas élaboré son propre programme de tarification du carbone afin de se conformer aux normes minimales canadiennes.
Le gouvernement fédéral possède le pouvoir constitutionnel de mettre en œuvre les ententes internationales et d'imposer aux provinces les normes minimales nécessaires au respect de ces ententes. De plus, l'article 7 de la
Charte canadienne des droits et libertés
garantit le « droit à la vie, à la liberté et à la sécurité de la personne ». Par conséquent, l'Alliance anti-gaz de schiste du Nouveau-Brunswick maintient que le gouvernement fédéral a le pouvoir, le devoir et l'obligation d'imposer de telles normes minimales.
Sans égard à l'endroit où elle est faite, la combustion du pétrole, du charbon et du gaz a des effets nocifs sur notre santé et elle déstabilise le climat. Les émissions polluantes ne respectent pas les frontières politiques dressées sur une carte. Toutes les provinces doivent appliquer le principe du pollueur-payeur également. C'est l'approche la plus juste.
Le renvoi de la Saskatchewan sera entendu par la Cour d'appel de la Saskatchewan les 13 et 14 février 2019.
- 30 –
Voir le résumé des arguments présentés dans le mémoire de l'AAGSNB (Francais) :
http://www.noshalegasnb.ca/wordpress/wp-content/uploads/2019/02/Carbon-pricing-summary-FR.pdf


Pour plus amples renseignements ou pour organiser une entrevue :

Jim Emberger (English) 367-2658, 440-4255 (cell), shaleinfo.nb@gmail.com
Denise Melanson (Francais) 523-9467, 858-0321 (cell),
inrexton2013@yahoo.ca
(1)
https://www.newswire.ca/fr/news-releases/selon-le--compte-a-rebours--du-lancet-il-est-temps-de-reduire-davantage-les-emissions-sinon-des-vies-humaines-et-la-survie-des-systemes-de-sante-seront-menacees-701488542.html
Publié par :

Gretchen Fitzgerald

Affichages : 5075
CALL FOR NOMINATIONS
Join the Executive Committee of the Sierra Club Canada Foundation - Atlantic Canada Chapter (SCCF-ACC)
We are gathering people interested in serving on the Executive Committee of the Chapter (Executive Committee, Ex Com for short). These are the people who will lead our chapter and make decisions on everything from what campaigns we take on in our region to building capacity by growing our member and supporter base to where to hold our annual meeting. We need your help in finding the right people to lead our chapter.
The Atlantic Canada Chapter has members in all four Atlantic provinces (Newfoundland and Labrador, Prince Edward Island, Nova Scotia and New Brunswick), the territories of Innus (Montagnais), Nunatsiavut, NunatuKavut, Wabanaki (Dawnland Confederacy), and Wolastokuk (Maliseet).
Its activities include nature immersion and forest school programming (Wild Child), wildlife protection and collision prevention (Watch for Wildlife), stopping offshore oil and gas development in the Gulf of St. Lawrence and protecting marine life, reducing the impacts of mines and quarries on the environment and communities, and engaging in energy policy and solutions with the aim of addressing climate change.
All members are invited to make a nomination of any member (including yourself) to be a candidate for positions on the Executive Committee of the SCCF-ACC. Nominations will be used by the nominations committee to put together a slate of candidates for this year.
The term of office for these positions will be two years, and is limited to three consecutive two-year terms (i.e. 6 years). On a practical level, being an Ex Com member means taking part in at least 10 meetings per year. These are usually about once per month (most by conference call) to organize and run the activities of the SCC-ACC, including the Annual General Gathering.
This may also involve taking on a position as an officer (Treasurer, Secretary) and/or chair of a committee, and there will be continuous opportunity to be active in various campaigns and projects.
As described in our bylaws and Chapter Policy, the Executive Committee comprises the volunteer leadership of its Chapter, and acts as the decision-making body for the Chapters, and in accordance with overall policies of the Sierra Club Canada Foundation and cooperation with its Board of Directors and National Staff.
Specifically, as outlined on our bylaws, the Ex Com is responsible for:
a) compliance with the by-laws and policies of the Sierra Club Canada Foundation;
b) engaging in any such activities within the territorial area which further the interests or objects of the Corporation, including the operation conservation or environmental programs, and media outreach;
c) developing a budget and raising funds for its own operations, as needed, and contributing to annual fundraising efforts; and
d) coordinating its activities through Staff, members and volunteers.
Sunday, February 3rd, 2019
is the deadline for receipt of names for candidates to be considered by the Nominations Committee.
Please send nominations to atlanticcanadachapter@sierraclub.ca or call Tony Reddin, co-chair of the Atlantic Ex Comm at 1-902-675-4093.
Publié par :

Jim Emberger

Affichages : 3644
OPEN LETTER TO NEW BRUNSWICK MPs
by Jim Emberger
I am writing on behalf of the New Brunswick Anti-Shale Gas Alliance, a collection of Anglophone and Francophone groups with members in every constituency of the province.
I am writing to address two separate but closely related issues. The first is to voice our displeasure in the federal government's actions in the matter of the recent RCMP assault on the checkpoints established by the traditional Wet'suwet'en Clan Leaders in British Columbia.
Resorting to militarized action against peaceful protectors over an issue that involves basic unresolved issues, such as relationships between the government and indigenous people, is not only poor policy, but also anathema to our values, our stated intent for reconciliation, and our international obligation to honour the terms of the United Nations Declaration on the Rights of Indigenous Peoples (UNDRIP).
While the actions in question took place a continent away, they have resonated strongly with those of us in New Brunswick who experienced the similar action of the RCMP raid on Elsipogtog over five years ago.
It too appeared to be a case of government employing the RCMP as an enforcement arm of fossil fuel interests; elevating commercial interests via an injunction over the larger and fundamental issues of civil rights, indigenous rights and international obligations at play.
We have two requests to make of you. The first is to make the federal government aware of our position and our support for the We'suwet'en Clan Leaders. The larger issues must be addressed and resolved before any further action to remove indigenous peoples from their unceded lands, and before any commercial activities continue.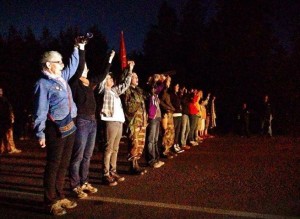 The second request is for you and the federal government to put pressure on the RCMP Commissioner to release the CRCC investigation report on the events at Elsipogtog to the public. It has been over 5 years in preparation, and via our communications with the CRCC we know that it has been completed and is only awaiting a decision to be released.
It is doubly important to release it now. First, it may contain lessons that would be applicable to the current situation in BC, and thus of immediate importance to all parties.
Secondly, the Conservative government in New Brunswick (including those in power at the time of the Elsipogtog raid) are planning a repeat of the actions that led to the debacle in Elsipogtog by lifting the moratorium on shale gas and bypassing consultations with indigenous peoples.
Our continual entreaties over the last 5 years have not hastened the release of the report, so we are asking for your assistance.
Recently a scholarly book called, 'Policing Indigenous Movements', was published, which concluded with a chapter on Elsipogtog. Suffice it to say that the portrayal of the government and the RCMP was not flattering, but it is the image that Canada continues to show to the world.
The citizens of New Brunswick and Canada, especially its indigenous people, need to see what actually transpired at Elsipogtog, so the actions taken there will not continue to haunt us and we can get along to the real business of reconciliation in all its forms.
Thank you for assistance. Please let us know what responses or news that you receive.
Jim Emberger, Spokesperson
New Brunswick Anti-Shale Gas Alliance