News from Groups
Publié par :

Gretchen Fitzgerald

Affichages : 4640
CALL FOR NOMINATIONS
Join the Executive Committee of the Sierra Club Canada Foundation - Atlantic Canada Chapter (SCCF-ACC)
We are gathering people interested in serving on the Executive Committee of the Chapter (Executive Committee, Ex Com for short). These are the people who will lead our chapter and make decisions on everything from what campaigns we take on in our region to building capacity by growing our member and supporter base to where to hold our annual meeting. We need your help in finding the right people to lead our chapter.
The Atlantic Canada Chapter has members in all four Atlantic provinces (Newfoundland and Labrador, Prince Edward Island, Nova Scotia and New Brunswick), the territories of Innus (Montagnais), Nunatsiavut, NunatuKavut, Wabanaki (Dawnland Confederacy), and Wolastokuk (Maliseet).
Its activities include nature immersion and forest school programming (Wild Child), wildlife protection and collision prevention (Watch for Wildlife), stopping offshore oil and gas development in the Gulf of St. Lawrence and protecting marine life, reducing the impacts of mines and quarries on the environment and communities, and engaging in energy policy and solutions with the aim of addressing climate change.
All members are invited to make a nomination of any member (including yourself) to be a candidate for positions on the Executive Committee of the SCCF-ACC. Nominations will be used by the nominations committee to put together a slate of candidates for this year.
The term of office for these positions will be two years, and is limited to three consecutive two-year terms (i.e. 6 years). On a practical level, being an Ex Com member means taking part in at least 10 meetings per year. These are usually about once per month (most by conference call) to organize and run the activities of the SCC-ACC, including the Annual General Gathering.
This may also involve taking on a position as an officer (Treasurer, Secretary) and/or chair of a committee, and there will be continuous opportunity to be active in various campaigns and projects.
As described in our bylaws and Chapter Policy, the Executive Committee comprises the volunteer leadership of its Chapter, and acts as the decision-making body for the Chapters, and in accordance with overall policies of the Sierra Club Canada Foundation and cooperation with its Board of Directors and National Staff.
Specifically, as outlined on our bylaws, the Ex Com is responsible for:
a) compliance with the by-laws and policies of the Sierra Club Canada Foundation;
b) engaging in any such activities within the territorial area which further the interests or objects of the Corporation, including the operation conservation or environmental programs, and media outreach;
c) developing a budget and raising funds for its own operations, as needed, and contributing to annual fundraising efforts; and
d) coordinating its activities through Staff, members and volunteers.
Sunday, February 3rd, 2019
is the deadline for receipt of names for candidates to be considered by the Nominations Committee.
Please send nominations to atlanticcanadachapter@sierraclub.ca or call Tony Reddin, co-chair of the Atlantic Ex Comm at 1-902-675-4093.
Publié par :

Jim Emberger

Affichages : 3175
OPEN LETTER TO NEW BRUNSWICK MPs
by Jim Emberger
I am writing on behalf of the New Brunswick Anti-Shale Gas Alliance, a collection of Anglophone and Francophone groups with members in every constituency of the province.
I am writing to address two separate but closely related issues. The first is to voice our displeasure in the federal government's actions in the matter of the recent RCMP assault on the checkpoints established by the traditional Wet'suwet'en Clan Leaders in British Columbia.
Resorting to militarized action against peaceful protectors over an issue that involves basic unresolved issues, such as relationships between the government and indigenous people, is not only poor policy, but also anathema to our values, our stated intent for reconciliation, and our international obligation to honour the terms of the United Nations Declaration on the Rights of Indigenous Peoples (UNDRIP).
While the actions in question took place a continent away, they have resonated strongly with those of us in New Brunswick who experienced the similar action of the RCMP raid on Elsipogtog over five years ago.
It too appeared to be a case of government employing the RCMP as an enforcement arm of fossil fuel interests; elevating commercial interests via an injunction over the larger and fundamental issues of civil rights, indigenous rights and international obligations at play.
We have two requests to make of you. The first is to make the federal government aware of our position and our support for the We'suwet'en Clan Leaders. The larger issues must be addressed and resolved before any further action to remove indigenous peoples from their unceded lands, and before any commercial activities continue.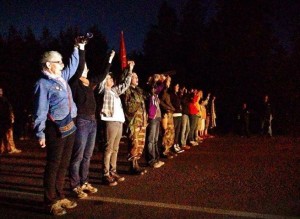 The second request is for you and the federal government to put pressure on the RCMP Commissioner to release the CRCC investigation report on the events at Elsipogtog to the public. It has been over 5 years in preparation, and via our communications with the CRCC we know that it has been completed and is only awaiting a decision to be released.
It is doubly important to release it now. First, it may contain lessons that would be applicable to the current situation in BC, and thus of immediate importance to all parties.
Secondly, the Conservative government in New Brunswick (including those in power at the time of the Elsipogtog raid) are planning a repeat of the actions that led to the debacle in Elsipogtog by lifting the moratorium on shale gas and bypassing consultations with indigenous peoples.
Our continual entreaties over the last 5 years have not hastened the release of the report, so we are asking for your assistance.
Recently a scholarly book called, 'Policing Indigenous Movements', was published, which concluded with a chapter on Elsipogtog. Suffice it to say that the portrayal of the government and the RCMP was not flattering, but it is the image that Canada continues to show to the world.
The citizens of New Brunswick and Canada, especially its indigenous people, need to see what actually transpired at Elsipogtog, so the actions taken there will not continue to haunt us and we can get along to the real business of reconciliation in all its forms.
Thank you for assistance. Please let us know what responses or news that you receive.
Jim Emberger, Spokesperson
New Brunswick Anti-Shale Gas Alliance


Publié par :

Jim Emberger

Affichages : 3101
Commentary by Jim Emberger / Telegraph Journal
11 January 2019
Just before the holidays, Brunswick News interviewed Steve Moran, CEO of gas producer Corridor, Inc. This interview, and conversations that followed it, contradicted everything that Premier Higgs told us about lifting the shale gas moratorium.
Mr. Higgs has justified lifting the moratorium because, he said, jobs and $70 million in investment would follow.
However, Corridor said it won't be doing any drilling or investing in New Brunswick until 2021 at the earliest, and then only if it finds a financial partner, and if gas market conditions are promising, and if the province eases some gas regulations. So even if everything falls into place, investment and jobs are years away. If Corridor can't find a partner, or if market conditions are bad, or if New Brunswick chooses not to alter its regulations (which protect residents), there may not be jobs or investment.
Mr. Higgs also said our gas supply from Nova Scotia would stop at the end of 2018, and that we needed local shale gas to fill that void.
But pipeline owners and gas suppliers were already on record that there would remain plenty of gas supply, though there would be a price increase. Local shale gas wasn't an answer to an immediate supply problem.
If exploration doesn't begin until 2021, it could still be years beyond that before Corridor would be able to fill any local supply void.
So with years before any gas activity, why is the premier rushing to lift the moratorium? Even deciding to do it without legislative involvement? What about the concerns raised by the former chief medical officer's award-winning report on shale gas, the conclusions of the Commission on Hydrofracking, and the five conditions implemented by the last government in its moratorium?
Isn't there plenty of time for a sober and scientific discussion of those issues? What exactly is the public policy wisdom of acting in haste?
Mr. Higgs has also stated his government wouldn't trade special favours for corporations in exchange for jobs. Does that apply to Corridor's demands to weaken New Brunswick's regulations? Is putting people at increased risk part of the "responsible" development of resources that gas proponents constantly tout?
Confronted with the contradictions to his campaign rhetoric, Mr. Higgs has switched his rationale and now suggests shale gas is needed to supply a potential liquid natural gas (LNG) export facility in Saint John. The facility was built years ago to import gas, but is now underused.
But even if he is right – and it's a big "if" – we are still looking at years before any jobs or royalties accrue to the province.
It's time for Mr. Higgs to tell us what the basis of his shale gas policy truly is, who will benefit from what he is proposing, and why he has rushed to act before any discussion of events that lie years in the future.
What is certain is that his reasons to lift the moratorium have been inconsistent, at best. How do citizens – both pro and anti-fracking – feel about promise of jobs and investment that won't happen for many years, if ever?
Will we learn why we're lifting the moratorium in Sussex, when Corridor said it wants to drill in Elgin? Will Sussex determine whether Elgin gets fracked, or did the premier simply use Sussex as a tool to show that somebody wanted shale gas?
How will the People's Alliance react to having spent much of its newly won political capital on saving a government by supporting its throne speech amendment on fracking?
Were PC MLAs themselves blindsided by Higgs' actions and haste? Do they feel embarrassed when defending these actions to constituents?
Most importantly, what will the legislature do? Will it wait years to see if Corridor's wish list comes true, while the province drifts without cogent energy, climate, employment and economic plans?
The previous legislature's all-party climate plan already contains a roadmap to a clean energy economy that needs only to be implemented. A recent study by Dunsky Energy Consulting, commissioned by Clean Energy Canada, indicates New Brunswick could replicate the successes of similar jurisdictions and create hundreds of jobs almost immediately, leading to thousands over the years. Perhaps, moving gas customers to increasingly inexpensive renewable energy could be a priority.
Amazingly, in spite of all of this, there are those calling to broaden the consensus for shale gas. But no consensus can be built without a foundation built on truth.
Jim Emberger is spokesperson for the New Brunswick Anti-Shale Gas Alliance.
Publié par :

Corey Robichaud

Affichages : 3385

We need to speak up for the health and safety of New Brunswickers.

Premier Blaine Higgs says his minority Progressive Conservative government will end the province-wide moratorium on hydraulic fracturing and allow the controversial and risky process in the Sussex region. And Premier Higgs wants to do it fast — before the New Year.

Use your voice to let the Premier know this is bad public policy. The Conservation Council has launched an easy-to-use letter-writing tool so you can have your say on fracking to your local Member of the Legislative Assembly, Premier Higgs, and all political party leaders.

Click here to send our pre-written letter (which you can edit freely) today.

Why should I send my #noshalegas letter?

New Brunswickers know that climate change is here, now, and already impacting our communities. It is time to diversify our energy toward the huge potential of renewable sources and turn the page on the fossil fuels causing climate change and impacting our health.

Fracking is not worth the risks it poses to our drinking water, our environment, or our health and safety.

There are now more than 1,300 scientific studies, journalistic investigations and government regulatory reports on every aspect of shale gas extraction. The overwhelming majority of them substantiate the threats that the industry poses towards public health, water and the environment, and climate change.



*Picture: Families, farmers, and New Brunswickers of all walks of life rally to protect their health and water from the threat of shale gas development.

Climate change
Burning oil, coal and gas is not good for our health. These energy sources pollute the air we breathe, contaminate the water we drink, and unbalance the climate we depend on. Renewable energy using solar, wind, hydro or other technologies is a clean way to deliver the power we need. Renewing our energy system lowers air pollution, protects water, and helps slow climate change. The good news is that we have what it takes to renew our energy system.

This is where the good jobs are headed. Canadians know energy, and we have the can-do attitude and skills needed to build the renewable energy system almost all Canadians want. The most competitive economies are heavily investing in their clean energy sectors. Shifting to more energy-efficient and clean forms of renewable energy to power our economy is the surest way to maintain Canadian jobs and create new economic opportunities for New Brunswickers. Our province can accelerate the renewal of its energy system by developing its abundant renewable energy sources. And, in doing so, we join the growing group of forward-thinking jurisdictions creating opportunities for workers, businesses and communities.
Water and air pollution
Methane, fracking fluids and other drilling chemicals have been proven to enter waterways via leaking wells, spills, pipeline breaks, well blowouts, truck accidents and floods. In addition to making water wells undrinkable and causing illnesses, contaminated waters have killed farm animals, wildlife, fish, vegetation and have left farmlands unusable. Many studies have linked airborne illnesses to density and nearness of gas wells, some documenting problems up to 4km from wells. Because airborne pollution can be inhaled, swallowed, and also reach the skin, it has emerged as one of the primary public health concerns. Other shale gas chemicals have created ground-level ozone over 300 km from the source, aggravating asthma, respiratory diseases and causing irreparable lung damage. These are just a few of the risks fracking poses to New Brunswickers. To learn more, check out these helpful resources:

Recommended resources:
Publié par :

Raissa Marks

Affichages : 2387
Moncton, NB – Plus de 1000 jeunes Néo Brunswickois ont participé au quatrième défi Branchez vous, Faites des vagues, organisé par le Réseau Environnemental du Nouveau-Brunswick. Ensemble, des jeunes, des écoles, des groupes environnementaux et des groupes communautaires de toute la province ont planté 1510 arbres indigènes et ont nettoyé 26 hectares de rivage.
« Branchez-vous, faites des vagues » est un défi lancé aux jeunes et aux groupes communautaires pour travailler ensemble sur des projets de conservation de la nature dans leur communauté locale. Suite au défi, les écoles ont été invités à participer à un défi photo afin de sensibiliser le public et illustrer leurs efforts. Leurs photos ont été affichées en ligne et le public a été invité à voter pour leur projet préféré. Les photos peuvent être visionnées sur le site web :
https://nben.ca/fr/branchez-vous-faites-des-vagues
Le Grand gagnant du défi cette année est l'école secondaire régionale de Dalhousie avec plus de 600 votes et 3000 vus. Les élevés de M. Justin MacCurdy ont planté 50 arbres et nettoyé 3 hectares de rivage avec la ville de Dalhousie comme partenaire. Comme l'explique M. MacCurdy, « Air fraîche! Air salée! [Ce défi] a donné la chance aux élèves de 6e, 7e et 8e de DRHS la chance de poursuivre une expérience d'apprentissage en-dehors d'une salle de classe traditionnelle... La journée fut une superbe leçon en intendance, ce qui a donné aux élèves la chance de démontrer leur souci inné de notre environnement naturel local. Tout comme les roches qui ont sauté à travers de la baie cette journée-là, parfois nous nous retrouvons à sauter le long des trajectoires de la vie, mais il est important de prendre le temps de s'asseoir et de jouir de nos environs naturels, dans toute leur splendeur, afin de se trouver ancré et connecté.»
—30—
Photo : Étudiants de l'école secondaire régionale de Dalhousie.
Contact : Raissa Marks, Réseau environnemental du Nouveau-Brunswick,
nben@nben.ca
, 506-855-4144
Publié par :

Anita Cannon

Affichages : 3424
The Southeast Chapter of the Conservation Council of New Brunswick (CCNB SE) is pleased to announce that Simon Delattre of
l'Acadie Nouvelle
is this year's winner of the 3rd annual Beth McLaughlin Environmental Journalism award.
"Simon Delattre broke an important New Brunswick story that made everyone, including political decision-makers, aware of our growing use of glyphosate and the dangers it poses to human health and the environment," said the judges of this year's award.Delattre's two-part series, published in August 2017, revealed that the forest company J.D. Irving was spraying the glyphosate-based product Weed Master in the protected area of the Turtle Creek watershed, which supplies drinking water to more than 144,000 residents in Greater Moncton, Riverview and Dieppe.Upon receiving his award at the Southeast Chapter's meeting on Nov. 14, Delattre, who is from France, said he is asking more questions about how closely the New Brunswick government is aligned with the forestry industry. He said he is interested in covering more environmental stories.

Simon Delattre (R) of l'Acadie Nouvelle accepts this year's Beth McLaughlin Environmental Journalism Award at the Dieppe Public Library on Nov. 14 from Dave MacDonald, president of the Southeast Chapter of the Conservation Council of New Brunswick. (Photo by Serge Robichaud)

The judges also selected the Red Dot group to receive an honourable mention for their work over the past four years in publicizing the poor water quality at Parlee Beach, as well as threats to coastal wetlands in the Shediac area.

Arthur Melanson, speaking for the Red Dot Group at the Beth McLaughlin Environmental Journalism Award Presentation on October 14 at Dolma Food in Moncton. (Photo by Nancy Arsenault)
During their campaign, the Red Dots were constantly in the media, writing scores of letters to the editor, granting interviews to reporters, filing multiple Right to Information requests, and communicating directly with the provincial politicians responsible for protecting the environment and New Brunswickers' health.By April 2017, the group had more than 2,000 members, among them such familiar names as Arthur Melanson, Tim Borlase, Brenda Ryan, Michael Sullivan and Dr. Scott Mawdsley, who wrote a 100-page letter to then-Premier Brian Gallant pointing out that the government knew about fecal contamination at Parlee Beach for well over a decade, but did nothing to fix it.
The call for nominations for next year's Beth McLaughlin Environmental Journalism Award will be out in the coming months. The Award for environmental reporting in New Brunswick comes with a $500 prize. The judges of this year's award were Roland Chiasson, Erin Steuter, and Bruce Wark.
The CCNB SE Chapter thanks the judges, nominators, and the many other volunteers who make this award possible.
-30-
Media contact: Anita Cannon (506) 364-2572
ccnbsoutheast@gmail.com