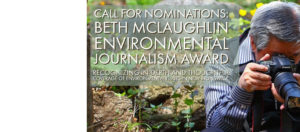 The Conservation Council of New Brunswick is pleased to announce nominations are open for our 4th annual Beth McLaughlin Environmental Journalism Award. By recognizing the best environmental reporting, this award seeks to inspire journalists in all media, and showcase reporting that addresses important environmental issues in New Brunswick.
To be eligible for this year's award, entries must be predominantly about an environmental subject occurring in or affecting New Brunswick, and must have been published, broadcast, or posted in 2018.
Submit nominations to the CCNB Southeast Chapter Environmental Journalism Award Committee at
ccnbsoutheast@gmail.com
by July 31, 2019.
Full details:
https://www.conservationcouncil.ca/en/call-for-nominations-2019-beth-mclaughlin-environmental-journalism-award/