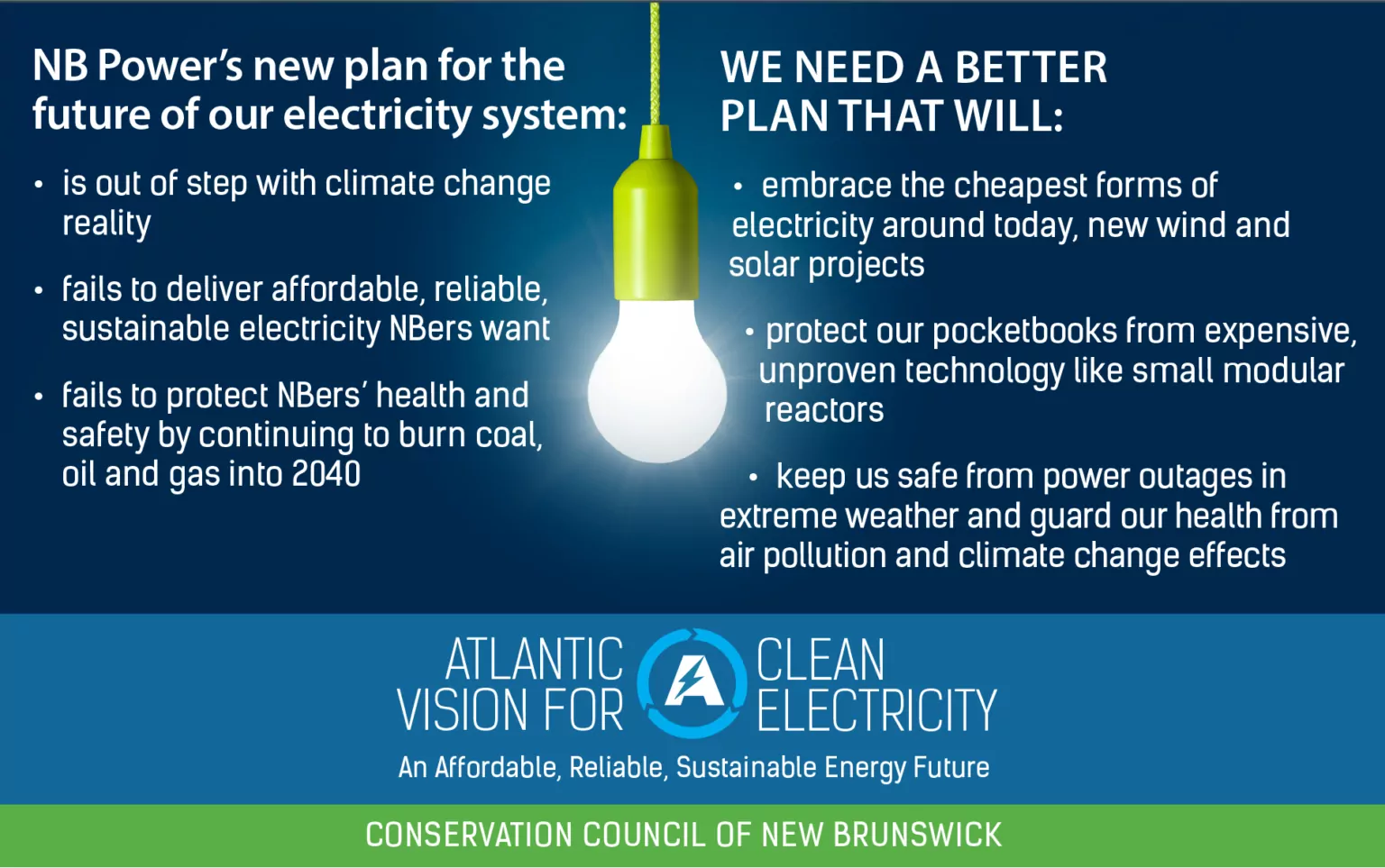 Unceded and unsurrendered Wolastoqey/Mi'kmaq/Peskotomuhkati territory/Fredericton
– NB Power's new plan for the future of the province's electricity system fails to deliver the affordable, reliable and renewable electricity system that New Brunswickers want and need in the face of increasingly severe climate change. The public utility's 25-year
integrated resource plan
(IRP; a demand/supply plan), released Friday, Dec. 4, proposes to keep greenhouse gas emissions (GHGs) at current levels of about 3 million tonnes a year until 2040. The plan is inadequate in the face of worsening climate change and federal legislation to reach near zero emissions in Canada in less than 30 years.
"At the moment the world celebrates the 5th anniversary of the Paris Climate Change Agreement; where New Brunswick celebrates the 4th anniversary of the release of its own climate plan, and where the federal government is expected to announce deeper cuts in GHGs by 2030, our publicly-owned utility and the province argue no further action required," says Louise Comeau, Director of the Conservation Council of New Brunswick's Climate Change and Energy program.
NB Power's plans are not what New Brunswickers asked for. In its own survey, 85 per cent of New Brunswickers told NB Power that 'New Brunswick's transition to a clean energy future needs to minimize impacts on rates and the economy.' NB Power's IRP fails to achieve this goal.
Today, new wind and solar projects are the
cheapest
forms of electricity on Earth. Five times cheaper than coal, five times cheaper than nuclear energy, and three times cheaper than natural gas. These technologies have advanced significantly in the last 10 years and are more reliable than ever, especially when paired with new transmission networks and energy storage technologies.
In addition, new
research
from the Conservation Council of New Brunswick (CCNB) and the Ecology Action Centre (EAC) shows that electricity plans that favour cleaner electricity are cost competitive. In fact, of the 24 electricity plans reviewed, 80 per cent of the scenarios favouring efficiency and renewable energy were cheaper or within just a few per cent of the scenarios favouring conventional, polluting technologies.
"What we need is an electricity system designed to protect our pocketbooks, keep us safe from power outages due to extreme weather, and protects our health from air pollution and climate change," says Comeau. "Instead we have a provincial electricity plan that ignores climate science and intends to burn polluting and financially risky fossil fuels for decades."
We can do better. We need a realistic update now to New Brunswick's electricity plan, not three years from now when the next update is scheduled. We need a new process based on broad stakeholder engagement to develop scenarios. All studies and scenarios should be available for public comment, as is commonplace across Canada.
A realistic electricity plan protects the public interest through a vision of a regionally-connected and non-polluting electricity system that prioritizes energy efficiency, wind, solar and existing hydro power. A realistic electricity plan prioritizes solar neighbourhoods like NB Power's
Northeast Moncton
pilot and smart neighbourhoods like the pilot in
Shediac
that get no mention in the 2020 IRP.
We need investments in solutions right now, like
transmission upgrades
to support two-way trade among Quebec, Newfoundland and Labrador, Nova Scotia and New Brunswick to ensure an affordable, reliable and sustainable electricity system. Federal financial support is available to make these transmission investments a reality as part of its commitment to phasing out coal and creating a 90 per cent emissions-free electricity system by 2030.
Burning fossil fuels (coal, oil and natural gas) unbalances our climate, and harms human health. If Nova Scotia and New Brunswick phase out coal electricity by 2030, we can
avoid more than
125 premature deaths, 12,100 asthma episodes and 81,000 days of breathing difficulty.
Climate change is
already costing
families, businesses and the economy billions each year. Environment and Climate Change Canada
numbers
show that successfully phasing-out coal would actually be a net benefit of $4.7-billion in Canada, with $1.2-billion in healthcare savings alone.
NB Power's proposal ignores the reality of increasing ambition on climate change through policies like emissions caps, carbon pricing and commitments for new renewable energy and efficiency programs. Worse, the NB Power IRP argues against new wind power until 2033, rather than embracing existing engineering solutions, including regional connections to firm capacity from existing hydro power, and investing in battery technologies whose prices are dropping rapidly.
In Nova Scotia's IRP, released last month, Nova Scotia Power also plans to extend coal burning until 2040 or later. These plans would make New Brunswick and Nova Scotia the last coal-burning provinces in Canada.
"Our politicians and utility leadership are undermining the public interest by making choices that harm New Brunswickers now and in the long-run, but this doesn't have to be the case" says Lois Corbett, Executive Director of CCNB.
Two additional studies (
1
,
2
) by East Coast Environmental Law, completed for CCNB and EAC, show that government rules stand in the way of investing to help low-income households spend less on energy; prevent utilities from considering the social and environmental costs of our electricity choices, and fail to send long-term signals to plan now for a zero-emitting electricity system over the next 20 to 30 years.
"We need electricity law reform to reach our modernized electricity system goals over the next 20 years, we can't afford to continue to fail New Brunswickers," says Comeau.
Recommended links
The Conservation Council of New Brunswick and Ecology Action Centre are collaborating on the Atlantic Electricity Vision, a project involving reports, webinars and research to show that affordable, reliable, sustainable electricity is possible in our region, right now.
Read
NB Power's Integrated Resource Plan 2020
Read our fact sheet on
building an electricity system in Atlantic Canada that is affordable
Read our fact sheet on
building an electricity system in Atlantic Canada that is reliable
Read our fact sheet on
building an electricity system in Atlantic Canada that is sustainable
For more information, contact:
Jon MacNeill, Communications Director, Conservation Council of New Brunswick:
jon.macneill@conservationcouncil.ca
; 506-238-3539